The four-day pre-tour to Denali National Park and Fairbanks is divided into one day of travel north, one day in the park, one day in Fairbanks, and one day of travel south. Travel days between Anchorage and Fairbanks will include stops along the 362-mile journey. Our tour includes one night in Healy and two nights in Fairbanks.
We hope you will join us on this one-time-only chance to join your professional communicator friends on this big Alaska adventure.
Register for the Pre- or Post-Conference Tours
Detailed Timeline for Tours
Accessibility information for the pre-tour
Day 1, Sun., Sept. 6
The first day we board our motor coach at the Hotel Captain Cook in Anchorage at 8 AM
and head north on the Glenn Highway. After stops at the Eklutna Cemetery
and the Musk Ox Farm,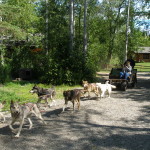 we turn onto the Parks Highway to Wasilla, where we will visit the Iditarod Mushers Headquarters. We will watch a half-hour video about the history of the famous Iditarod Sled Dog Race. The more adventurous will take a short sled dog ride on a cart with Raymie Reddington, son of Iditarod founder, Joe Reddington. Everyone will have time to browse the gift shop. We will be having lunch at Sheep Creek Lodge off the Parks Highway.
Then on to Healy, a very small town just north of the Denali National Park entrance.
Day 2, Mon., Sept. 7
The second day of our journey features an all-day tour bus ride 53 miles into Denali National Park.
You may wonder why a 106-mile round trip takes all day. Here's why: the road into the park is a single-lane gravel road that in some places winds around steep mountainsides. Buses traveling safely at low speeds accommodate more time to view the spectacular scenery with frequent stops to view wildlife and take photos.
Mt. McKinley—or Denali, as Alaskans call it—is often shrouded in clouds, and probably will not be visible from the park. However, on our two travel days, there are a number of viewing places where we can see the mountain and stop for photos, if we have clear weather. Bring binoculars because, in the park, we will most likely see moose, caribou, grizzly bears, Dall sheep, and, maybe a wolf.
We are taking the Tundra Wilderness Tour, which includes narration, snacks and a boxed lunch. You will have an opportunity to purchase a video of your trip at the end of the day. We turn around at the Toklat Rest Area, travel out of the park, and continue on to Fairbanks for overnight.
Day 3, Tues., Sept. 8
Fairbanks, in Alaska's interior heartland, is the state's second largest city. Our tour of Fairbanks will focus on what it's like to live in a northern climate, where temperatures can range from 90 degrees Fahrenheit in summer to minus 50 degrees in winter.
Exciting news — we have added a tour of the Chena Hot Springs to our day in Fairbanks. View the video: I Am The Chena Hot Springs Imagineer | INDIE ALASKA. Although there won't be snow on the ground, and you won't see the Northern Lights, you will see the ice museum, drink from an ice martini glass (optional), and learn about the geothermal renewable energy.
This changed the schedule for our day in Fairbanks. First thing in the morning, we will take the Discovery Riverboat cruise on the Chena River. (They tell us that they serve a smoked salmon dip as a snack that many people want to buy from their gift shop after the cruise. )
Next, we will travel north on the Steese Highway. We will stop briefly at the pull out to view and take photos of the trans-Alaska oil pipeline, then on to Chena Hot Springs, 14 miles off the highway, where we will spend the rest of the afternoon.
This resort has been developed to preserve it's natural setting with a covered pool and a lovely outdoor hot springs rock lake. Unfortunately, we won't have time to soak, because we will have a guided tour explaining their environmentally friendly use of geothermal technology to power the facilities. They even have geothermally heated greenhouses where they grow produce to serve in their restaurant. The highlight will be entrance into their famous Aurora Ice Museum where you can view ice sculptures, explore the ice bedrooms and order an Appletini in an ice glass ($15, ID required).
(This hot springs tour replaces the previously planned permafrost tunnel tour, but we think you will love the new destination.) Then on to the University of Alaska Fairbanks Museum of the North for dinner and enjoying the exhibits.
Highlights from the schedule:
We will head north on the Steese Highway where we will have a photo opportunity with the famed trans-Alaska oil pipeline.
Returning to Fairbanks, we will board a sternwheeler for a 3-hour cruise on the Chena River to its confluence with the brown waters of the Tanana River.
Operated for five generations by the Binkley family, the tour includes a Chena Indian village walking tour, a bush pilot demonstration, a riverbank visit from the boat with the Susan Butcher sled dog kennels, and an Alaska at 40-below experience.
Capping off a very busy day, we will drive up the hill to the University of Fairbanks' Museum of the North, where we will have a great view of the rolling hills surrounding Fairbanks, enjoy a soup and salad dinner, and tour the museum's Alaskan art, cultures, history, and wildlife exhibits. A favorite is "Blue Babe," a remarkably preserved Steppe bison and a mammoth skull with giant tusks. There's a gift shop with a large selection of Native art and other Made-in-Alaska gifts.
Day 4, Wed., Sept. 9
On day four, before heading south, we will make a quick stop at Creamer's Field to see if the sandhill cranes have arrived to eat and rest for their long journey south. This will be a treat for those who were on the Nebraska/Iowa tour where we toured the Mid-West crane staging area. Here, we will see these birds' northern rest stop. A former dairy farm, Creamer's Field is now planted with barley to feed the migrating cranes, which usually come through Fairbanks in September.
On the way back to Anchorage, we will stop at the historic town of Talkeetna, the jumping off place for mountain climbers hoping to scale Mt. McKinley, (aka Denali). At 20,320 feet high, the highest peak in North America can viewed from here. Dinner will be on your own here in Talkeeetna. Arrive back at the Hotel Captain Cook in Anchorage in the late evening.
Register for the Pre- or Post-Conference Tours